Commercial Properties

Barrels of fuel and oil stored on grassy area
A commercial property may be a retail store, an apartment building, a multi-tenant strip mall, a gasoline station, an automobile repair garage, a warehouse or even a property where some type of light manufacturing is conducted.
Commercial properties are usually located in densely populated areas and can be in downtown areas of communities that have been developed for 125 years or more. There are usually sufficient historical records that can be reviewed to determine the usage history of older single-tenant commercial properties. These records include assessment files, building permit files, historical Sanborn Fire Insurance maps, city directories and even local history books. By contrast, extra time is needed in a Phase 1 ESA of an older multi-tenant commercial building to research and locate the former occupants in order to question them about their activities at the property. Asbestos-containing materials may also be present in older commercial buildings and long forgotten underground fuel oil tanks may still be at commercial properties.
Common environmental concerns at commercial properties

Asbestos jacket on old boiler
Threats of contamination from nearby contaminated properties
Asbestos-containing building and insulating materials
Leaking underground fuel oil tanks and spillage near the fill pipes
Leaking underground gasoline and diesel fuel tanks
French drains in which fuels or solvents may have been spilled or disposed
Catch basins and hydraulic lifts that may have leaked
Project Spotlight
Flyway Automotive, Washington Street, Horicon, WI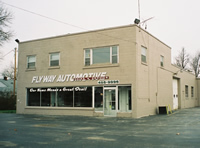 A Phase 1 ESA of this commercial property in Dodge County, Wisconsin determined that the property had been the site of an automobile sales and service business from 1952 until 2007. A gasoline station had also been located at the north end of the property from 1952 until 1988 when the gasoline station's two underground tanks were filled with sand and abandoned in place. Contamination was discovered at the former pump island in 1993, and in 1996 about 767 tons of contaminated soil was removed from that area. The older of two buildings at the property was heated by fuel oil from 1952 until about 1967 and the underground fuel oil tank was still in the ground at the property in 2008. A review of the project file for the Leaking Underground Storage Tank (LUST) site at the property determined that soil samples were never taken near the gasoline station's two abandoned tanks. Ultimately, the Phase 1 ESA recommended soil sampling and analysis be conducted 1) near the underground fuel oil tank and the two former underground gasoline station tanks, 2) near an old catch basin inside the older building, and 3) in a grassy area at the south end of the property where barrels of racing fuel and motor oils had been stored for many years.